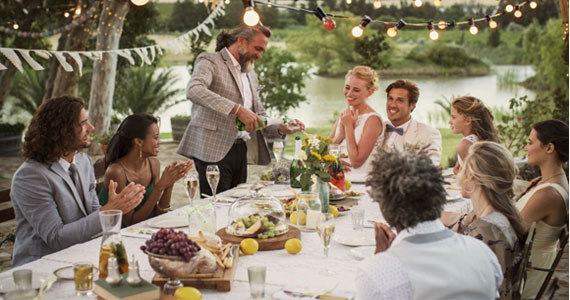 Weddings, Events & Conferences
The Forest Hill Golf & Country Club is a wonderful location to spend quality time with friends & family. Celebrate Anniversaries, Birthdays, Family Gatherings & all other special occasions in grandeur. Choose from a variety of dining options to suit your needs.
Adventure activities & family outdoors
Everyone has the spirit of adventure embedded somewhere inside. The need is only to push ourselves a little in order to live life to the fullest. Adventure, not only helps us to cope with stress but also increases our mental and physical endurance. Forest Hill Adventure Zone caters to those who have an affinity towards the wild, for those who are always yearning for something different. At the Adventure Zone, we have everything that an adventure lover must be looking for. May it be Trekking, Hiking, Mountain Biking, Angling, Treasure Hunting, Boating, Bird Watching, Animal Rides, Archery, Night Safari or just dancing around the Bonfire.
Adventure Zone Highlights:
Golf
Golf course
Academy, Golf Range & Pro Shop
Chipping & Putting practice area
Clubhouse with Bar & Restaurant
Wellness Zone
Gym
Fitness studio
Spa & Salon
Sports
Swimming pool
Tennis
Squash Courts
Basketball
Volleyball
Roller skating
Badminton
Activities
Biking
Hiking
Bird watching
Camping
Wildlife safari
Archery
ATV's
Segways
Archery
Dirt bikes
Adventure Zone
Adventure course
Zip line
Riding
Horse riding on trails
Camel riding
Running trails
Lakes & Marina
Canoeing
Kayaking
Boating
Fishing
Zorbing