Weddings & Corporate Events
Finding a venue that fits all your requirements and at the same time fit well within your budget is a tough and hectic task. Situated conveniently close to Chandigarh, Forest Hill Resort is the best place to make your celebrations even more memorable. Celebrate Anniversaries, Birthdays, Family Gatherings & all other special occasions in grandeur.
Proudly holding the reputation of phenomenal service and exceptional attention to details, Forest Hill Resort has professional event coordinators who will assist you in planning every detail of your wedding or any other event. We employ renowned chefs to whip up delicious desserts and lip smacking dishes catering to even the well travelled taste buds.
The resort comes with basic facilities such as basic lighting and electricity along with power backup that make your event or celebration a smooth and successful one. You can also choose from a variety of dining options to suit your needs.
Our Facilities
Forest Hill Resort is known for a fantastic atmosphere making it one of the best places to host your event. You also get a choice of venues at the Resort for wedding ceremonies, receptions as well as corporate events ranging in size from intimate to grand!!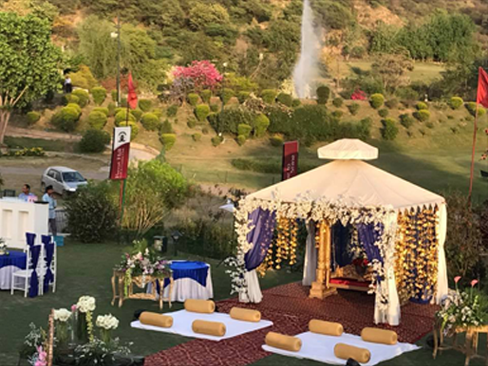 The Seventh Heaven – Classic & Timeless
Elegant decoration, classic & timeless elegance and the sophistication of our grand banquet hall create a fable that can be believed only with personal experience. From immediate impact of the magnificent chandeliers to the lasting impression of the rich decor, the exceptional grandeur of the banquet hall is truly unmatched. The area is perfect for pre-event reception and can accommodate up to 1000 people at one time.
Aquascape – Creating Delightful Experience
At Forest Hill Resort you will have many delightful stories to share with your peers. Your favourite one could be enjoying a lavish buffet in the lap of nature. The sumptuous delights at the locale will scintillate your taste buds, while the picturesque view will take your breath away. Have the time of a lifetime as you celebrate your special moments with an intimate gathering of up to 350 people under the open sky on the banks of a lake with flocks of birds in the background.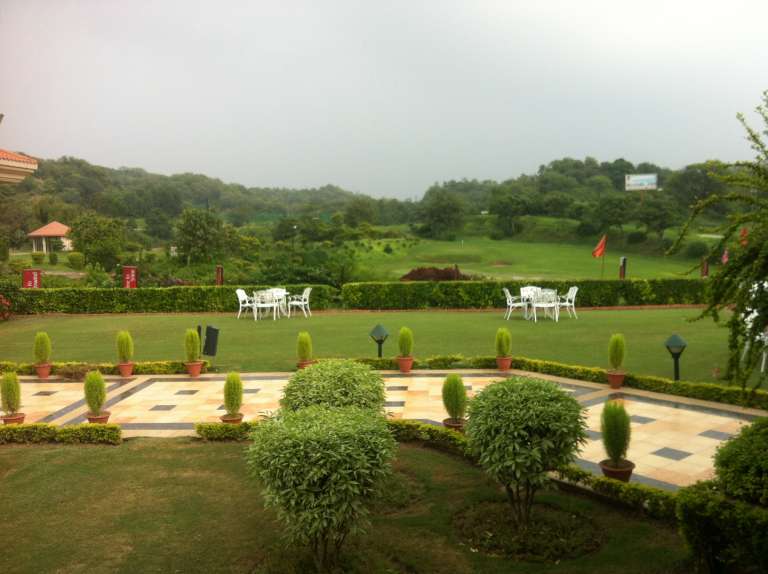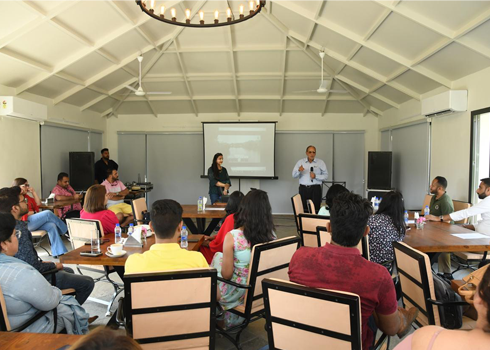 Conference Room
When it's time to convene with colleagues, reward employees or introduces your next big idea to the world, FHR provides you with whatever you require to accomplish your goals and finalizing your deals. Conduct business meetings and conferences at our conference rooms to create that strong first impression. As soon as you are done with your business, you can either head over to the golf course or to the bar to enjoy a well-earned drink or enjoy the rest of the evening in the picturesque surroundings.
We will take care of every arrangement to your each meeting is a success. The dedicated team will make sure that supplies, refreshments and all other meeting needs are delivered on demand without disturbing the proceedings.
Resort & its Garden
Looking for an experience beyond ordinary? The stylishly furnished lush green lawns at Forest Hill Resort feature gorgeous views of the golf course, a beautiful lake and natural vistas give you ample space to celebrate every big and small happiness or events of your life. Ideal for panoramic outdoor ceremonies, this versatile space is quite popular to host your pre-wedding ceremonies like engagement, cocktail party, sangeet, mehndi and so on followed by the main wedding ceremony and then a grand reception.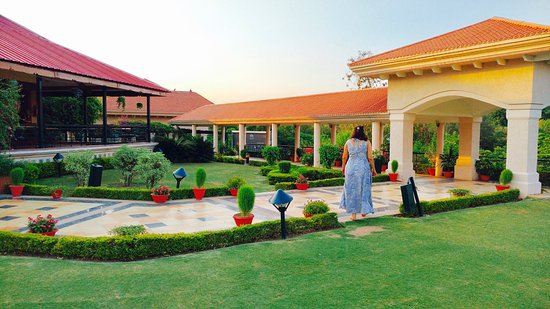 Ample Parking Space
Finding ample and secure parking space for the convenience of your guests is not a problem at all at Forest Hill Resort. Our parking areas are secure and within the premises. We can accommodate upto 500 vehicles easily. Our resort has separate in and out access for entry and quick exit making the guests experience pleasant. There is a separate entrance for services.